Purchasing a massage chair is a serious long-term investing to the quality of your life. So, we advise you to consider many aspects to come to a deliberate decision. What things do you need to know? How to choose a massage chair for home? What are the most important things to put your attention on? Here are some tips to assist you when choosing the best massage chair to suit your own needs.
The modern massage chair is complex highly technological product full of that sophisticated electronic stuff. Their manufacturing process is expensive and requires a real professionalism, honed skills and care. Evidently, it is high priced. You shouldn't expect to get a high quality model for little money. You pay for what you get. Your decision shouldn't rely totally on the price. Your health is far more important than everyday desire to save money. You will use the chair regularly for years, and after so long a time you even will not be able to remember its price. Instead, the lack of functionality and quality of massage will be always with you.
What to begin with?
The first things to consider when choosing a good massage chair are your needs and expectations. Do you suffer from back pain? Is the chair supposed to help you to heal your illness? What kind of massage do you want? Do you want to get a full body massaging chair with a lot of useful features? This all are important questions to consider beforehand. Our general tip is that if you're going to use a massage chair regularly to gain a high therapeutic effect, you should look for an expensive, high-end product. But if you suppose to use it mostly as a lounge chair for short-time use, than probably you should go for a lower-price chair.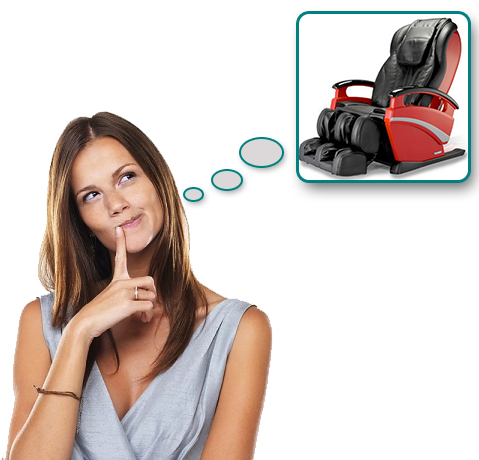 Also very important things to consider are features that you want from your chair. Simply sit and put down on paper all options you would want. Then it's good to prioritize them. It's more likely that you will not be able to get a chair with all options you want, so you have to find a consensus. If you're buying a massage chair for your family and possibly for friends, then you should find out their needs too. As a result, you will be able to choose a model that is equally useful for them all.
Whether your goal is just to relax or sooth your illness, you may want to buy a high-quality, full body massaging chair. Because of great variety of models today it's difficult to decide which is better to choose. So, we're going to present you three massage chairs that are among the best rated in the world and that receive many good feedbacks from users.
Massage chairs, which are famous
Inada dreamwave (number 1 in the world). It's one of the most advanced massage chairs in the world. Its distinctive feature is perfect shiatsu massage. The moving parts of the chair simulate the actual motions of a shiatsu therapist. This miracle of japanese technology allows you to gain the same body balance that only can be achieved when visiting a shiatsu professional. Before starting massage, the machine scans your whole body to detect problem areas. It provides a highly-specific, customized massage for your own body type. It's perfect for people of any age, suits all possible needs.
Fuji EC-3800. Fuji is the first company in the world that made a massage chair in early 1960's. Since that time the specialists of the company have been constantly improving the sophistication of massage chairs. And now they are still among the best in the world. The new features in EC-3800 are: KIWAMI MECHA 4D knead ball system, 'air magic' shoulder care air massage and a new 3-step footrest. The chair offers all kinds of robotic massage, 723 combinations, body stretch program and famous shiatsu massage. It is highly recommended by massage specialists.
Gess symphonie. Gess - represents legendary German quality. The specialist of the company took into account all the details to suit every person. It provides 350 programs, all kinds of massage, back-stretching, IR-heating, 3D-massage, Zero Gravity option and many more innovative features. Also it has a luxury design that will compliment your room. That model is truly unique and will surpass all your expectations.
Finally, we want to give you the best tip for buying a perfect massage chair. The most important thing about it is that it should enjoy you. In order to find out whether the massage chair you've chosen on the internet really enjoy you, we advise you to go to the malls that host exhibitions in your town and test it. Make sure you've spend enough time in it to find out all the aspects. The best way is to sit in a massage chair for an half an hour, which allows you to understand the total experience.
For more detailed information please contact me on Facebook and add me as a friend.